Had a really entertaining day on Friday with Andy & Sam from the 8-Bit Ninjas and a whole host of actors & actresses shooting part of the video for 'Disco Terror' in Digbeth, Birmingham.
As part of the 2weeks2MakeItBrum competition, the 8-Bit Ninjas had been paired with filmakers 'Emerald Void'. Having already completed a day shooting various scenes on the Thursday, the main event for the Friday was to take place on a derelict site near the Custard Factory in Birmingham. This was to be the scenes involving all the 'extras' that had been recruited for the day.
An early start saw us head to New St station to pick up Liam who had travelled down from Newcastle to be one of the main characters in the video.
A brief stop at Tesco Express to stock up on baby wipes and water was a brief diversion and gave Andy C plenty of comedy material to start off the day! (Don't anybody mention 'Meal Deal' to Andy again…)
With Liam now safely accosted it was off to Digbeth ..and the joy of finding somewhere to park,….. followed by a visit to a greasy spoon for a bit of breakfast.
There was a sudden realisation that Liam was not suitably attired for the part he was due to play, so it was a dash up to Primark in the Bull Ring for some cheap clothes before heading off back to the site to meet up with the film and makeup crew.
First task was to get Liam into his custom hi-tech suit…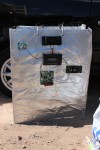 Meanwhile a steady stream of volunteer actors and actresses started to turn up and were lovingly dispatched to the temporary makeup area for a bit of 'zombification'.
The day then unfolded as scene after scene was committed to Digicam, people crawled in the dust, spouted fake blood and stood patiently 'between scenes' getting well and truly sunburnt. Meanwhile Liam, without a hint of complaint, was treated to a good 6 or 7 hours standing around wrapped up in his robot suit come sauna.
There is a nice little slideshow of some images here…

The Zombies were brilliant. The make up was awesome and very effective and everyone took on the parts really well. The film makers really seemed to have a good understanding of what they wanted to achieve and were very well organised.
The day wrapped up nicely, the importance of sufficient 'baby wipes' was highlighted in the clean up operation and everyone had a good time.
The competition closes this Friday and the video is now in production/editing. Personally, I had a wonderful time, met some interesting people and I can't wait to see the finished video.