The 8-Bit Ninjas played the Varsity in Wolverhampton last night (19th March).
Four bands were on in total. Bad Apes opened the gig, lets just say they were "experimental" and left quite a few punters a bit bemused. Some people even thought it was just the soundcheck. I sincerely hope they have day jobs.
The 8-Bit Ninjas were on second . They opened with 'Theme from an 8-Bit Dojo' before introducing themselves and got an extremely good reception. The sound quality was very much improved over the last gig, despite some early problems with the monitor speakers which meant the guys couldn't actually hear themselves to start off with.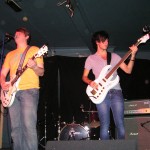 It was a shorter set due to only having a 30 minute slot, so 'Go' was dropped in order to compact the set a bit. 'Pokemon Face' was well received when it was anounced
The appearance of Clive* and his dance interpretation during 'Shiny Spaceship' was appreciated by the crowd.
Quite how someone can dance in two layers of clothing and an overcoat is beyond me!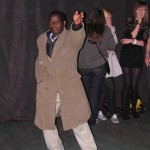 The night was completed firstly with 'Crimson Joy' who were popular and certainly knew how to work and interact with the audience, even roping in 'Susan the Dancing Unicorn' into their own set.
'From The Get Go' completed the line up, rather crowded onto the stage, they bought their own legion of 'Slam Dancers' who pretty much cleared the front part of the room as most people actually wanted to avoid have broken limbs. Even 'Clive' was knocked flying at one point.
Overall a good night. Especially for the 'Ninja's. Good Times.
Some Photos of the Gig can be found here: Photos
or here
* Clive is not his real name, well actually it might be, I've no idea who he is.